Meadowbrook Animal Clinic is a full-service veterinary medical facility, located in Rochester, MI.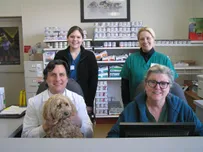 The professional and courteous staff at Meadowbrook Animal Clinic seeks to provide the best possible medical care, surgical care and dental care for their highly-valued patients.
We are committed to promoting responsible pet ownership, preventative health care and health-related educational opportunities for our clients. Meadowbrook Animal Clinic strives to offer excellence in veterinary care to Rochester, Rochester Hills, Auburn Hills, Pontiac, Oakland Township, Lake Orion, Troy and Shelby Township.
Please take a moment to contact us today, to learn more about our veterinary practice and to find out more information about how Meadowbrook Animal Clinic can serve the needs of you and your cherished pet.
---
Dr.

Owner

Dr. Mark Pytel has practiced medicine and surgery at Meadowbrook Animal Clinic since 2009 and has owned and operated the facility since October 2011. Born and raised in Detroit, Dr. Pytel is also a proud "Pilot" having graduated from De La Salle Collegiate High School in his home town. He earned his Bachelor of Science degree and his Doctor of Veterinary Medicine at Michigan State University in 1986, alongside his brother Dr. Thomas Pytel, who owns Pytel Veterinary Clinic in Goodrich, Michigan.

Read More

Practice Manager

Jaime started working at Meadowbrook Animal Clinic, for Dr. Avi Zechory, in 1995. She has been the practice manager for over 10 years. She continued to work part-time at the clinic while she earned her Bachelor Degree in Zoology at Michigan State University. Jaime is married and has two daughters, ages 6 and 9. Her husband, Adel, is also a Michigan State graduate. When Jaime is not at work she enjoys after school activities with her children, reading, and traveling. She absolutely adores Golden Retrievers. Jaime has a 3 year old Golden named Cooper and a 2 year old Springer Spaniel named Carly.

LVT

Christine graduated from Michigan State University in 2008 with a Bachelors degree in Veterinary Technology, and has been working as a Licensed Veterinary Technician at Meadowbrook since 2009. She has 2 dogs, Julie a Miniature Dachshund, and Marley a Labrador mix, and a cat named Sonic that she adopted from the clinic. In her spare time, she enjoys reading, walking her dogs, baking, and taking her boat out on the lake.

Receptionist

Sherry graduated from VCU with two degrees in Sociology. She went to work as a buyer for children's clothing at Bloomingdales. When her husband was transferred to Michigan, she became a stay at home mom to Ashley, who is now a teacher in the Czech Republic, and Amanda, who is a senior at MSU. She has a papillon named 'Ziggy', a chihuahua named 'Cocoa', and a cat named 'Bug' who she adopted from Meadowbrook Animal Clinic. In her spare time she enjoys camping, reading, swimming, and spending time with her family.